Welcome to the Hill City Master Gardeners
Virginia Master Gardeners are volunteer educators who work within their communities to encourage and promote environmentally sound horticulture practices through sustainable landscape management education and training. As an educational program of Virginia Cooperative Extension, Virginia Master Gardeners bring the resources of Virginia's land-grant universities, Virginia Tech and Virginia State University, to the people of the commonwealth. All information we disseminate must be research-based by VT/VSU.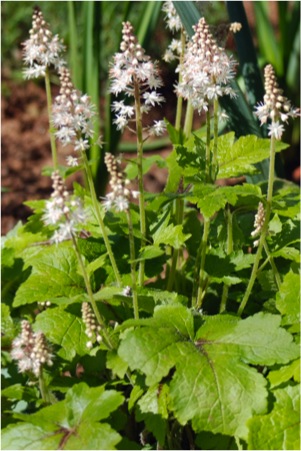 Gardening Tips for June
Grub Control –
Treat lawns in June and July for grubs, if you have a history of grub damage.
Perennials –
Many perennials are early flowering and have passed their peak by June.  Cut back the flower stalks on iris, peony, delphinium, yarrow, astilbe, coral bells, coreopsis, daylily and red hot poker.  Leave the foliage at the base of the plant.  Shear the tops of candy tuft and creeping phlox.  Pinch back sedum for more compact growth.  Pinch back hardy hibiscus about 2 inches from the tips in early June to increase bloom number.  Cut mums and asters to 12 inches once a month until August 15.
Insect Patrol –
Bagworms – June is the time to control bagworms if you had them last year.
Japanese Beetles –  Usually show up in June.  Remove manually from your plants early in the morning.  Use a jar of soapy water and just knock the beetles off plants into the jar.  The beetles soon die.
Mosquitoes – Reduce number by keeping roof gutters clear, changing water weekly in birdbaths, and removing items that catch and retain water.
Set your Sundial – June 15 is the time to set your sundial.  Place it so the shadow falls on the twelve o'clock position at exactly noon on this date.
Spring Flowering Bulbs – Cut back the foliage of your daffodils and other bulbs when the tips of the leaves start to turn brown. You may move bulbs after foliage dies – if not dead, bulbs may not flower for several years.  If bulbs haven't bloomed well this year, this would be the time to lift and separate them.  You may replant immediately or store until fall.  If you store them, do so at cool temperatures so they won't dry out.
---
---